It's that time of year to start making spring break plans, and the first things that comes to mind are clear, blue water and Alabama's white-sand beaches. You can kick back in your beach chair, toes in the sand, while the kids play in the water and build sandcastles, but where's the adventure? Where's the excitement? What will make this spring break different from any other beach vacation?
Set sail with us aboard Wild Hearts – a 53-foot, open-ocean catamaran – in Orange Beach. Wild Hearts offers a variety of cruises sure to make this spring break memorable for the whole family.
Test the waters with a three-hour Morning Dolphin Cruise where you can bask in the sun, feel the warm gulf breeze, and spy dolphins peeking through the glistening Gulf of Mexico.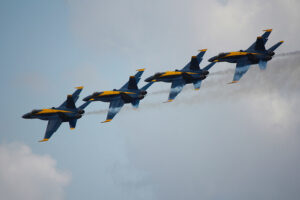 If you're looking to do something more active, the Kayak Adventure Sail has a lot to offer. Take a short trip aboard the catamaran to an Orange Beach island where kayaks, paddleboards and snorkeling gear await.
If you have a full day available for sailing, the Dolphins and Angels Sailing Adventure is a must-do. You'll have the best view on the Gulf Coast as the Pensacola Blue Angels perform aerial drills. You can hear their booming engines zoom by overhead as they weave amongst the clouds and dive in synchronization. Check out the full Dolphins and Angels Sailing Adventure schedule here and be sure to book your cruise early!
Fill your spring break with smiles and happy memories aboard Wild Hearts, ranked in the top five Orange Beach boat tours and water sports by TripAdvisor. Call ahead to make your reservations for fun in the sun this spring break on Alabama's white-sand beaches.