Setting sail with your family and friends during your Orange Beach vacation can be a memorable experience. Make note of a few things to expect so you can make the most of your sail and create lasting memories.
Adventure – With specific excursions you can select from, each sail is different – even if you've sailed with us before – so be prepared for an adventure all your own. Short trips add to the excitement of a Wild Hearts sail, while longer ones like the Dolphins & Angels Sailing Adventure give families even more time for rest and recreation, including sunbathing on the boat's trampoline or snorkeling in the Gulf of Mexico.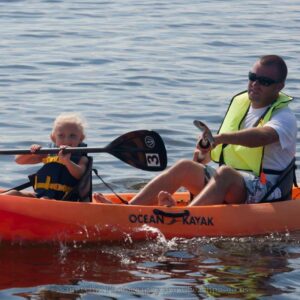 Family Fun – A sail aboard Wild Hearts is open to all ages, and provides a sailing adventure that your whole family will enjoy and remember. From dolphin spotting to casting a fishing line and even swimming near small islands, you'll find family fun appropriate for all ages. Young passengers should be accompanied by an adult.
Safety – Your safety is our priority. Wild Hearts supplies life jackets to children 12 years old and under. Also, all masks and snorkels are sanitized after every use. However, packaged snorkels and masks are available for purchase.
Dedicated Crew – Our experienced crew will be by your side every step of the way to make your voyage as relaxing as possible. From entering and exiting the boat to sea sickness, our crew is there to assist you.
Vacation for the Books – Your experience will be unlike any other. From dolphins and the Blue Angels to paddleboarding and sunsets, expect your Orange Beach vacation to be memorable.