Aboard the Dolphins and Blue Angels Sail, you experience much more than just an air show. The Pensacola Blue Angels have a deep rooted history in the area, and their dynamic performance has been mastered over the years to create something spectacular.
In 1946, less than a year after World War II, the Blue Angels performed their first flight demonstration at their home base in Jacksonville, Fla. in an effort to keep public interest in Naval Aviation.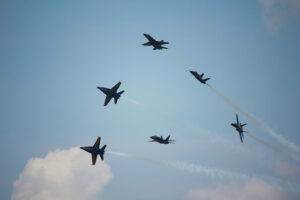 For a brief time the team reported to NAS Corpus Christi, Texas before moving to NAS Pensacola in 1954 where they have stayed since.
While you're enjoying the Dolphins and Blue Angels Sail, you can view the Blue Angels perform breath taking aerial stunts overhead as they quickly weave from one intricate formation to the next.
After the show, Wild Hearts sails you to the historic Fort McRee near Fort Pickens.  Here, you'll have the opportunity to snorkel, kayak, paddleboard and explore the grounds.
Fort McRee was built between 1834 and 1839. The Civil War left the fort damaged, however additional batteries were built between 1899 and 1942, and the last battery built remains today.
Sailing Wild Hearts not only gives you an enjoyable sail, but also provides a history lesson on some of the best features the coast has to offer.
2016 Dolphins & Angels Sailing Adventure Days
March 23, 30
April 6,13, 20, 27
May 4, 11, 18
June 1, 8, 15, 22, 29
July 19
August 10, 17
September 7
October 12, 19
November 2, 9