When you sail Wild Hearts, you're not just on another trip. Whether you sail with family, friends or colleagues, you're in for a unique adventure different from any other trip you've embarked on.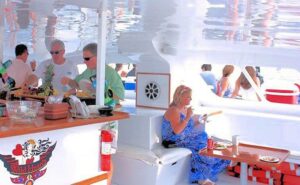 There's room to spare – You're not riding on a bus, or even an ordinary boat, you're on the Wild Hearts sailboat. Our 53-foot catamaran gives you plenty of space to stretch out, get comfortable and take in the salty breeze. Roam around and watch the dolphins play, or just kickback and enjoy the ride.
You can become one with the water – The trampoline area is perfect for sunbathing as the boat swiftly skims the gulf waters. The only thing separating you from the water is a think trampoline panel.
Only a quick climb to cool off – Most boats have a ladder that extends down into the water, but slippery ladders can make things tricky. We have a full set of stairs that extends into the water, allowing you to board to and from the water with ease.
Easily clean up after a day's fun – A long day in the salty water can be tiring! We provide a freshwater shower to rinse off before heading home, or to clean up between activities.
We protect marine wildlife – Our sail boat's propellers have protective cages around them, out of respect for the dolphins, manatees, sea turtles and passengers that sail with us.