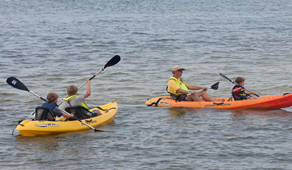 Are you itching for summer fun and some fresh local seafood? Head on out to Gulf Shores April 16 for the Zydeco and Crawfish Festival.
Start your Saturday off with the Zydeco and Crawfish Festival 5K or 1-mile run beginning at Waterway Village next to Tacky Jacks.
Then rejuvenate with the festival's jam-packed summer essentials like crawfish, cool tunes from zydeco bands, arts and crafts vendors, and even an 80-foot shrimp boat on display.
After a day full of entertainment, wind down with the Wild Hearts Sunset Cruise. Our 53-foot catamaran departs an hour before sunset, giving you the best view of the day. Relax as our crew takes you gliding across the shimmering gulf. What a perfect, relaxing ending to a very active day!
For a more adventurous activity after hitting the festival, take an afternoon break with the Kayak Adventure Snorkel Sail. This cruise takes off at 1:30 p.m. and will definitely keep you busy. Cool off in the gulf as you snorkel or practice paddleboarding. Kayak around Robinson Island and take in the warm summer day.
Wild Hearts has many cruises to choose from to fit your schedule. Give us a call at 251-981-6700 to book your sail today.