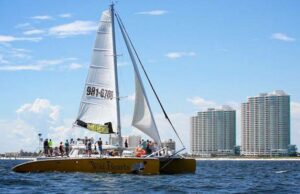 Memorial Day falls on May 30, and it will be here before you know it! It's a time to hold family close and remember military members we've lost. Many head to the beach to enjoy the start of summer and create lasting memories throughout the holiday weekend.
Why head to the beach? Why not! You've been working hard and the kids have been cooped up in the classroom.  The beach is the perfect remedy for overwork, stress and lack of activity, no matter what age.
However, instead of "just" a beach trip, surprise the family with a sail aboard Wild Hearts. Our sails are kid-friendly, and there are many to choose from.
An avid fisherman (or a wannabe) will enjoy the Guided Fish & Snorkel Adventure. This cruise features snorkeling and swimming paired with catch-and-release fishing. Start the day off right with this two-hour morning sail.
The Kayak Adventure Snorkel Sail is perfect for families looking for water activities in the sparkling blue gulf. This three-hour afternoon sail has a lot to offer, including kayaking, paddleboarding and snorkeling off of Robinson Island.
Looking to end the day with a memorable experience – and stay dry? The Sunset Cruise is the way to go.  This 2-hour evening cruise lets you kick back and relax with the family while admiring a picturesque sky as the sun drops below the horizon. Unwind as our catamaran swiftly glides along the glittering water.
Give us a call at 251-981-6700 and let us know how you'll set sail this Memorial Day. Be sure to book early to reserve your Wild Hearts family sailing adventure.