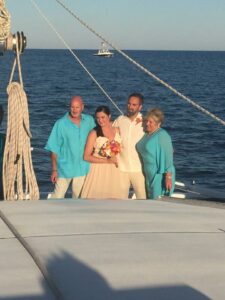 Couples recently engaged sometimes find it difficult to decide on the perfect location to tie the knot. But we have a solution: For an intimate and memorable wedding friends and family will be raving about, check out Wild Heart's wedding packages.
Exchanging vows in the middle of the shimmering gulf with a sea breeze at your face is a romantic experience that will create memories to last a lifetime.
You bring the guests, and we'll take care of the rest! We know planning a wedding can be stressful and time consuming, but booking a wedding sail is quick, stress-free, and easy on your wallet.
Let Wild Hearts be your venue, cake vendor, flower vendor and food vendor. Our wedding packages are equipped with everything you need to create a spectacular wedding.
When you sail the Just Us wedding sail, the bride and groom hop aboard our 53-foot catamaran before family and friends to spend time together before the ceremony.
The bride holds a beautiful satin-wrapped rose bouquet matching the groom's boutonniere, all provided by Wild Hearts.
If that didn't excite you enough, we'll have an 8-inch wedding cake and bottle of champagne waiting for you and up to 12 passengers.
Wild Hearts also offers a Champagne Toast sail for up to 25 guests, which also includes pre-boarding for the bride and groom, a bridal bouquet and groom's boutonniere. However, this cruise features a 12-inch cake, a fruit and cheese tray, soft drinks and bottled water.
Give us a call and let us help you create your dream wedding.