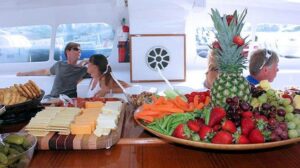 Wild Hearts has a large variety of family cruises, but we also provide private charters and corporate sails. Make your next corporate event a lot brighter by sailing away on our 53-foot, open-ocean catamaran.
Why book a private sailboat charter?
Get everyone's attention. With a family reunion or corporate event, the same routine meeting place can get dull. Spice things up and hop aboard our sailboat! The calm gulf water and cool sea breeze make for a relaxing and rejuvenating environment to reconnect with family or show employee recognition.
2. Have full participation. A sail on Wild Hearts is a great corporate team-building event to accommodate everyone. The group can spend quality time together as the boat skims across the glittering gulf. Guests can participate in a variety of water activities or choose to relax on deck. When you book a private charter or corporate sail, we create a completely catered event for you and your guests.
Zero stress, zero hassle. We're just a quick phone call away! Wild Hearts works hard to make sure your sail is exactly how you want it. Let us know the type of event you're holding and what you need, and we will make it happen.