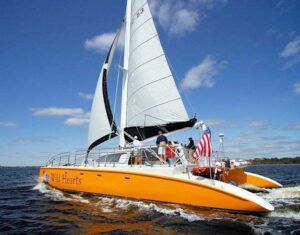 Father's Day gifts can be difficult to pick out. After all, doesn't Dad have everything he could need? Maybe, but here are three reasons Dad would want to hop aboard Wild Hearts for some much-needed R&R.
It's not his boat. Preparation to go out to sea can be a hassle. Getting the boat fully ready to hit the water can take hours, and then you need to transfer the boat, dock and undock. Dad deserves a chance to simply hop on board, sit back, and let someone else do all the work.
He can bring drinks. Some dads enjoy having a drink or two out on the open water. When Dad comes aboard Wild Hearts, he's welcome to bring a small cooler of drinks or even a bottle of wine with him. It's Father's Day, after all!
Casual fishing can be involved. If Dad's a fan of the rod and reel, catch-and-release fishing is an option aboard Wild Hearts on the Guided Fish & Snorkel Adventure. Cast a line (or two, or 10) and we'll help out as needed. With catch and release, there's no pressure or work related to keeping and cleaning the catch. Dad can fully relax and take in the sailing experience.