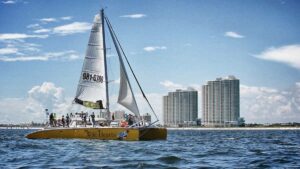 It can be tough for company managers to find a team-building activity for their employees that everyone wants to take part in. A team-building event should be fun, but should also require everyone to work together. After all, the goal is to strengthen the team!
Getting a sailboat prepped and out to sea is a group effort, and that's why many enjoy booking our corporate charter. Our 53-foot catamaran gives plenty of room for up to 49 passengers to join in!
This sail can depart from Orange Beach, Perdido Key or Gulf Shores, making it convenient for your crew to set sail.
We'll put your sailing skills to the test as you assist the captain in maneuvering the sails and manning the boat. We put you and your team in the driver's seat, and let your group work together to keep the boat on course. How fast can you get our catamaran cruising?
If you're not on the right track, some team members might have to walk the plank – or our first mate will assist!
If your team is looking for a little more adventure, our corporate Dolphin, Nature & Eco Tour provides plenty of options. A naturalist can educate your group on the local plant and animal life. Then take a splash with your pick of snorkeling, kayaking or paddleboarding on the clear blue gulf.
No matter what you choose, we'll customize your Wild Hearts sail to make sure it's everything you want! Give us a call at 251-981-6700 to make your next team-building event an exciting one.