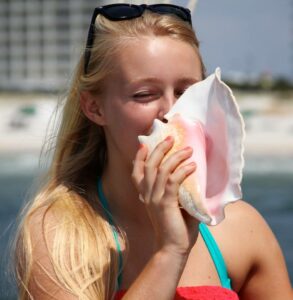 Summer is meant for relaxing and having a good time, but just because school's out doesn't mean the learning has to stop! Our Wild Hearts cruises and adventures are packed with exciting outings paired with fun facts and educational experiences.
Our captain knows the area and water well, so it's no surprise when he shares facts about landmarks that only a seafarer would know.
Aboard the Dolphins and Blue Angels Sail, you'll learn about the famous high-flying jets that perform spectacular aerial drills overhead. Our catamaran drops anchor in front of the haunted lighthouse, which has an interesting story of its own. After the air show we'll head to a historic Civil War fort that's waiting to be explored. This area is full of rich history that our captain knows a thing or two about, so ask all the questions you'd like!
When we head home, you'll likely get a close look at dolphins following along behind our catamaran. The bottlenose dolphin is a beautiful sight, as it swiftly swims against the waves.
Each of our cruises has educational experiences to offer, but they are fun and adventurous as well! Check out our list of sails and let us know which one is right for you.