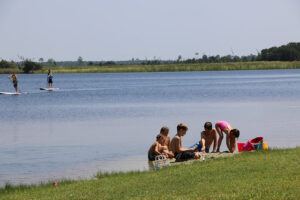 White-sand beaches, ice cream and ghost sand crabbing. What do they have in common? They are all part of a traditional beach vacation in Gulf Shores and Orange Beach. Every summer, families make the annual trek to play in the sun, sand and surf. But besides those things, what else makes up the all-American summer in Orange Beach? We've listed a few ideas to help you plan your summer vacation.
Lunch at LuLu's
Kayaking around Robinson Island and Bird Island
Deep-sea fishing
People-watching at the Gulf State Park Pier
Building sandcastles
Skim-boarding
Dinner at The Hangout
A trip to the Alabama Gulf Coast Zoo
Biking the Hugh S. Branyon Backcountry Trail
Swimming in Lake Shelby
The Sail Wild Hearts crew can assist with several of those activities. Call us at 251-981-6700 for details.