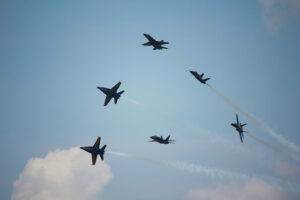 When you aren't listening to beach tunes while the breeze brushes through your hair on a sail with Captain Zach and crew, how are you spending your time in Gulf Shores and Orange Beach? There are plenty of ways to incorporate both a dolphin cruise and local events into your beach vacation. Check out these upcoming festivities to put the wind in your sails for a complete vacation experience.
After a day aboard Wild Hearts for the Guided Fish & Snorkel Adventure, stop by The Wharf to watch the big fish being weighed in at the 2016 Blue Marlin Grand Championship of the Gulf, July 12 to 17. Dubbed the "greatest show in sportsfishing," the annual event boasts thousands of dollars in prizes and was recognized as one of the Top 20 Events in the Southeast in 2015. There will be live TV coverage, online streaming, jumbotrons, light shows, and captain and crew interviews.
History lovers will enjoy a full day immersed in time gone by, beginning with the Dolphins & Blue Angels Sail on July 19. Sail the Gulf of Mexico to catch views of a historic Civil War fort in a protected lagoon and watch the Blue Angels perform high-flying feats during a practice run. Snorkel, kayak, paddleboard and explore Fort McRae while the crew prepares lunch. That evening, join the interpretive staff at Fort Morgan Historic Site in Gulf Shores for a guided tour that lasts one hour. Learn about the military, architecture and daily life history of the grounds.
For more cruise options, visit the cruises section of our website, and get ready to put the wind on your back and the sun on your face.