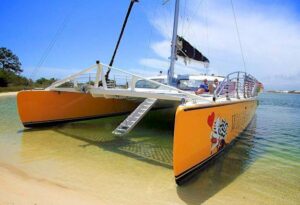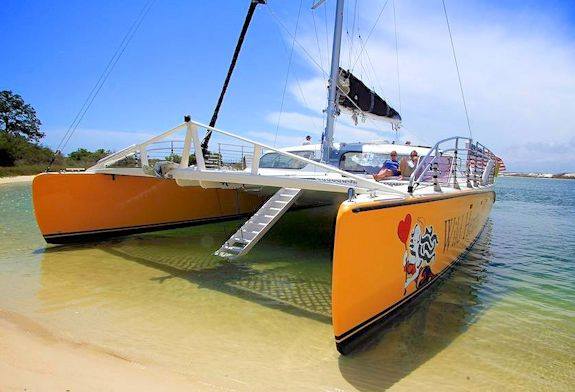 Set sail on a scuba and snorkeling adventure with the Sail Wild Hearts crew during your next Orange Beach vacation. Enjoy a five-hour trip filled with three of our favorite "s" activities: snorkeling, scuba diving and sailing.
The Perdido Key Scuba/Snorkeling Sail is the newest addition to the Wild Hearts itineraries. Board the 53-foot open-ocean catamaran 30 minutes prior to departure to settle in. Forget your snorkel gear? No problem. Complimentary snorkel gear is available for both children and adults. Upon advance request, certified scuba divers may rent scuba gear for the trip.
Enjoy a light breakfast as you set sail to the Perdido Key snorkel reef, just outside of Orange Beach waters, where your adventure begins. Underwater, you'll find 24 structures constructed to support an ecosystem teeming with marine life, including sea turtles, dolphin, rays, crabs and a variety of fish. During your sail back to Wild Hearts' home port in Orange Beach, you'll be treated to lunch – in fact, complimentary bottled water, soft drinks, breakfast and lunch are all included. Guests are also welcome to bring small coolers filled with their own drinks and snacks, but please leave any glass bottles at home.
If you've never tried scuba diving, watching experienced divers navigate the waters may just give you the scuba bug! But either way, snorkeling aboard Wild Hearts is a vacation experience to remember.