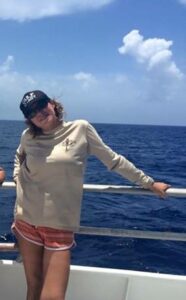 Sail Wild Hearts crewmate Jessica Polk is originally from Birmingham, Alabama, but has lived on the Alabama Gulf Coast on and off for 10 years.
Q: How long have you been a crewmate?
A: This is my first season with Sail Wild Hearts.
Q: How did you come to work aboard Wild Hearts?
A. I met Captain Zack a few years back, and we realized we'd both lived very near each other in the Virgin Islands around the same time. However, we had never met. I left that next winter to travel and dive on sailboats, and when I returned to town it was obvious I should be working at Sail Wild Hearts!
Q: What do you love most about your job?
A. Being on the water every day!
Q: What's the most memorable moment you've had aboard Sail Wild Hearts?
A. It's still my first season, but I look forward to an awesome year with lots of memorable moments!
Q: What tip would you give someone who's never sailed aboard Wild Hearts?
A. Don't be afraid to pick up that hula hoop!