Sail Wild Hearts crewmate Gigi is from Perdido Beach, Alabama and is a Baldwin County native, having lived along the Alabama Gulf Coast for 31 years.
Q: How long have you been a crewmate?
A: I was hired in February 2012.
Q: How did you come to work aboard Wild Hearts?
A: The previous crew of Sail Wild Hearts approached me about the job. I'm currently the longest-standing crew member.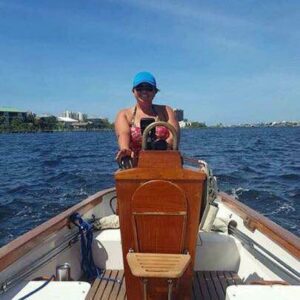 Q: What do you love most about your job?
A: So many things! 1) I'm the boss! 2) I get to work with friends that are as crazy as me. 3) I get paid to take people sailing. 4) Showing newcomers what this area has to offer and sharing my knowledge and history of the area.
Q: What tip would you give someone who's never sailed aboard Wild Hearts?
A: My tip for anyone who's never sailed aboard Wild Hearts is "wind and waves may tip this ship, but only you may tip the crew." Our jobs may look easy, but we work hard to ensure the satisfaction and safety of the vessel and all of our passengers.