Sail Wild Hearts' Captain Zach Smith is originally from Auburn, Alabama, but according to Zach, he has been an Alabama Gulf Coast resident for approximately 2,593,460 seconds. If you do the math, that's really only 30 days, but he's been here a tad bit longer than that.
Q. How long have you been a member of the Sail Wild Hearts crew?
A. Since May 2012.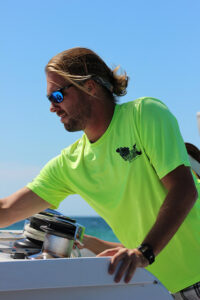 Q. How did you come to work aboard Wild Hearts?
A. While visiting for my cousin's high school graduation, I ran into several friends and coworkers from the Virgin Islands who currently live here. I was on my way back to the islands, but decided to ask around about captain jobs. The condo we were staying at was a property that the Sail Wild Hearts and Perdido Beach Services owner, Ted, serviced with beach chairs and watersports. The attendant told me about Ted, so I applied for any captain openings. After an interview that included sailing through surf on a Hobie Cat, I got the job. I started running the Hobie Cat off the beach and filling in on Wild Hearts, where I eventually became the captain.
Q. What do you love most about your job?
A. I love the wind and water. Every trip is something new.
Q. What's the most memorable moment you've had aboard Wild Hearts?
A. My first trip to see the Blue Angels in Pensacola on Wild Hearts, when they flew right over the boat!
Q. What tip would you give someone who's never sailed aboard Wild Hearts?
A. Always wear sunscreen!