Hannah Davidson is a Baldwin County native and has lived in Elberta, Alabama for what she refers to as "forever," also known as 19 years.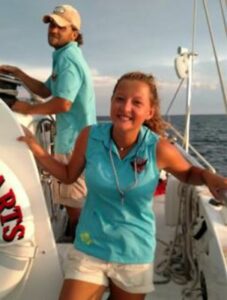 Q. How long have you been a member of the Sail Wild Hearts crew?
A. Four seasons.
Q. How did you come to work aboard Wild Hearts?
A. My dad started working here when I was younger and I tagged along until I was put to work.
Q. What do you love most about your job?
A. Absolutely everything about it!
Q. What's the most memorable moment you've had aboard Wild Hearts?
A. My most memorable moment was a dolphin spotting on one of our sunset trips. We were sailing back to the pass and the boat was surfing the wake. Everyone looked down and we were right in the middle of a pod of dolphins who were surfing right along with us!
Q. What tip would you give someone who's never sailed aboard Wild Hearts?
A. If you have long hair, definitely don't forget to bring a hairband! I've learned my lesson!