Santa is coming to Orange Beach, but he is trading his sleigh for a sailboat. Bring your festive spirit and come enjoy the ho-ho-holidays with Santa and his elves, also known as the Sail Wild Hearts crew, for two special days of sails.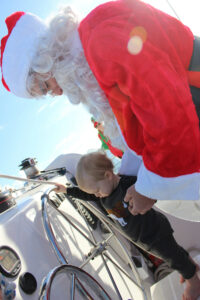 On Dec. 17 and 18, from 2 to 3:30 p.m., the young and young-at-heart can whisper their Christmas wishes into Old St. Nick's ear as we sail away in search of dolphins while holiday music plays in the background. Holiday refreshments will be served, but feel free to bring along your favorite snacks or drinks.
If you're wondering what the Sail Wild Hearts Santa Sail is like, be sure to browse one of our Facebook albums. For more information or to book your sailing excursion, call 251-981-6700.
Tips for Santa's Sail
Wear your most festive clothes and be sure to bring a camera to snap your Christmas card-worthy shots.
Bring your sense of adventure. Sure, we're on Santa's beach sleigh and any cruise is an adventure!
Bring cold-weather gear. The average daily temperature in Orange Beach in December is 55 degrees; however, it can be much warmer or cooler. Be prepared and bring something warm, including a scarf and gloves, just in case we're having a cool day at the beach.