What a year! 2016 was one for the books. We've enjoyed a year of sun and sailing, meeting new friends and setting sail with old ones, too. It's always a pleasure to reconnect with past guests, as well as introduce new ones to sailing for the first time.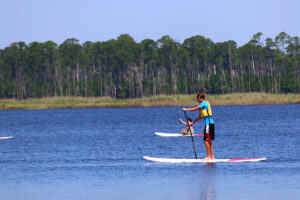 So, what exactly did we do in 2016? A lot! Our owner, Ted, is always looking for something fun and exciting to add to our itineraries, and 2016 didn't disappoint. This year, we took sailing Alabama's beaches to a whole new level with more adventure sails, including the Snorkel and Sail Tour where Captain Zack drops anchor for an hour of snorkeling and swimming Orange Beach's clear, turquoise waters. The Perdido Key Scuba and Snorkeling Sail took our guests on a short sail to Perdido Key Snorkel Reef where there are 24 structures uniquely constructed to support an abundance of marine life. Our guests were treated to breakfast and lunch on the five-hour trip.
While it wasn't new in 2016, hundreds of our guests set sail for kayaking, paddleboarding and snorkeling on the Kayak Adventure Snorkel Sail. Guests from the young to the young-at-heart took advantage of Wild Heart's full staircase that drops from the boat into the water. The staircase is a unique feature to Wild Hearts, allowing our guests easier boat access from the water than a ladder would.
What new adventures await in 2017? We don't want to spoil any surprises! Keep a lookout and visit our blog often for the latest news and updates. We hope to see you soon!