Fun-filled activities are lined up for 2017, but there are a few that we must point out! From eating fresh shrimp to jamming the night away, these events make a wonderful reason for a getaway to the Alabama Gulf Coast.
1. Gulf Shores Mardi Gras Parade
Get ready to catch some beads! Dress up in your green and purple attire and snap some pics as lavishly decorated floats glide down the street. The coastal, relaxed vibe of this Mardi Gras parade makes it very family friendly, and a perfect start to a beach day. Date: February 28
Place: Begins at Hwy. 59 at Clubhouse Dr. and ends at the public beach.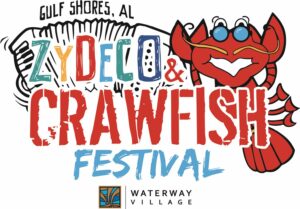 2. Waterway Village Zydeco & Crawfish Festival and 5k Run
What makes this event a must-do? It's an ENTIRE day full of things to do and see, all starting with a 5K run and one-mile fun run. If that doesn't exactly motivate you to take part in the Waterway Village festival, maybe the post-race free beer will! The delicious food, the arts & crafts, and the children's activities will energize your day.
Date: April 15
Place: Waterway Village, 225 E. 24th Ave.
This festival always brings big crowds and big artists! This year's lineup includes Mumford & Sons, Twenty One Pilots, Frank Ocean, Major Lazer and more. Much more than just another music festival, the Hangout Fest gives concert-goers an entertainment-filled experience with beach volleyball, Camp Hangout, amusement rides, obstacle courses and even a wedding chapel.
Date: May 19-21
Place: 101 E. Beach Blvd.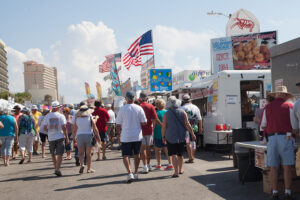 4. 46th Annual National Shrimp Festival
Shrimp Fest has become a premier event for the Gulf Coast community, and we know why. Sizzling shrimp cooked more ways than you could imagine, plus more than 300 exhibits of arts and crafts, makes this one yummy and interesting weekend! And we haven't even mentioned the sand sculptures, 10k run/walk, and Shrimp Fest Idol contest! You'll want to invest more than one day to see and do it all.
Date: October 12-15
Place: Gulf Shores Public Beach Access (where Hwy. 59 meets Hwy. 182)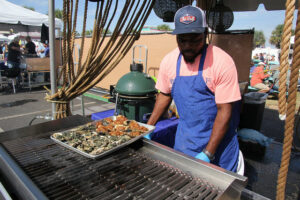 5. 10th Annual Oyster Cook-Off and Craft Beer Weekend at The Hangout
The name of this event pretty much says it all. Craft beer and oysters? That's a pretty irresistible combo. This adults-only night out includes celebrity chefs, live music and cooking demos, creating a perfect weekend!
Date: November 3
Place: The Hangout, 101 E. Beach Blvd.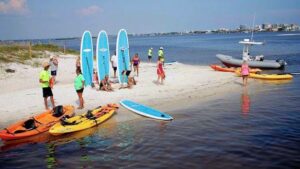 6. Wild Hearts Kayak Adventure Snorkel Sail
Our bonus "thing to do" in 2017 is a Wild Hearts cruise! The Kayak Adventure Snorkel Sail is a favorite of many because there are several activities to choose from. You and your crew sail to Robinson Island where you can kayak, paddleboard or snorkel. This 3-hour trip will keep sailors of all ages entertained!
Date: Book your cruise online anytime.
Place: Wild Hearts is located in Orange Beach, across from the Perdido Beach Resort.