It's hard to believe, but spring break will be here before you know it! Students will be itching to get out and be adventurous, while parents will be looking for fun, but also a little downtime. How do you get the best of both worlds without breaking the bank? A Wild Hearts sail of course!
If your group likes the excitement of experiencing wildlife up close, the Snorkel & Sail Tour is a good option. Sail to Alabama Point jetty and immerse yourself in a snorkeling adventure as you swim among native marine animals. Guided by a PADI-certified dive master, you'll experience amazing sights that will have your family in awe.
If some in your group are less keen to jump into the water, no problem. Enjoy the sail to Alabama Point, and relax on the sand or on the catamaran.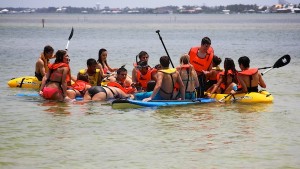 For those looking for a little more adventure, the Kayak Adventure Snorkel Sail has it all. Jump in a kayak and weave around Robinson Island, or hop on a paddleboard and see how far your balance can take you. Snorkel off the island and find various creatures lurking near the shoreline. There's also always the option to simply soak in the sun and enjoy the sights and sounds from your beach towel.
Whichever cruise you choose, we hope we can add a little more adventure and excitement to your spring break. Check our online booking calendar for availability.