Ditch the roses and chocolates this Valentine's Day, and give her a surprise she's sure to remember. A gift certificate for a romantic cruise on the gulf will definitely make her smile.
Whether it's a private Sunset Cruise or a Kayak Adventure Snorkel Sail, or any of our other options, give her a day full of lasting memories she will LOVE.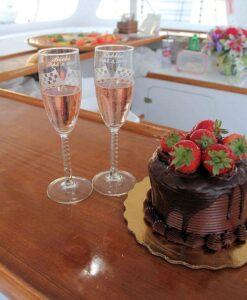 L – Lots of Private or Family Fun: Your valentine can choose to sail as a couple or include the whole family. The Wild Hearts team can help you customize your sail to make it a perfect day for everyone.
O – Outstanding Cost Savings: Valentine's Day dinners, roses and candies can add up, and it most likely will be soon forgotten. Give her an experience with Wild Hearts that will last a lifetime. All our cruises are listed with prices so there's no guess work.
V – Very Unexpected Surprise: While others are receiving the ordinary Valentine's Day gifts, she'll feel special and surprised with a sailing adventure. It's a gift she's sure to talk about for a long time, and will remember always.
E – Enjoy Your Cruise: Bring your own snacks, beverages and adult drinks on board and make yourself at home on our 53-foot catamaran.
Have a special destination you'd like to visit? Customize your sail. Give us a call at 251-981-6700 to let us help create your special day.