Let the good times roll this Mardi Gras season! The parades, balls, moon pies and king cakes make for a festive few weeks spent with friends and family. While you're celebrating Mardi Gras in all its purple, green and gold glory, why not treat your own krewe to a little adventure?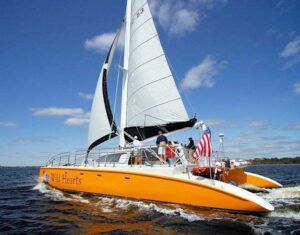 Start your Fat Tuesday off right with a morning Dolphin Cruise on the Wild Hearts catamaran. The Orange Beach parade doesn't start until 2 p.m., so there's plenty of time for a sail on the beautiful, glittering Gulf of Mexico.
Our Dolphin Cruises usually depart at 10 a.m. and last for two hours, so sit back and enjoy the view. As our yellow sailboat skims across the gentle waves, we hope to attract a few bottlenose dolphins along the way.
Need a little time to recoup after the Mardi Gras madness? A Sunset Cruise is the perfect way to unwind. Check our website for post-Mardi Gras cruise availability. While family and friends are in town, give them a tour of the Alabama Gulf Coast they'll never forget.