When you sail Wild Hearts Kayak Adventure Snorkel Sail, you're in for a surprise! This cruise isn't your average sailing excursion. Your group not only gets a relaxing sail in the gulf and bay, but also may choose from many water activities once we dock at Robinson Island.
That's right, we pull right up to Robinson Island where you can sink your toes in the sand and enjoy the salty air and warm sun. Hop into a kayak and make your way around the island, taking in the beautiful scenery in all directions.
For the more balanced sailors, test your skills on a paddleboard. Stand on one as you push off of Robinson Island, and see how far you can go without making a splash! Those looking for a little more water time can explore the marine wildlife with a snorkeling excursion.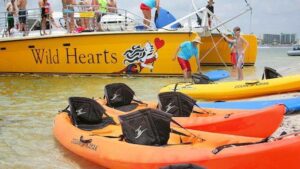 All we need to make a memorable adventure is you, so leave your equipment at home! There's no additional charge for kayaks, paddleboards or snorkeling gear.
This 3-hour trip includes complimentary bottled water, with soft drinks and snacks available for purchase. As always, life jackets are included.
If this sounds like the fun-filled day your family has been wishing for, call 251-981-6700 and let's set sail!