Finding the right venue for your wedding can be a difficult decision. And when you add in food, décor and various other details, wedding planning can even be stressful. During the happiest time of your life, we want you to stay blissful from "Yes" to "I do."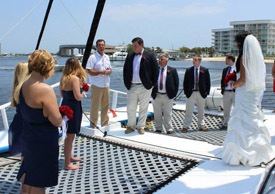 Think outside the box, and onto the water with a sail. Our sailboat provides a romantic setting for your big day, and will wow guests as well. We can accommodate up to 49 people on our 53-foot catamaran. Or, if you're looking for something more intimate, the "Just Us Wedding" option accommodates up to 12 passengers.
With a groom's boutonniere, bridal bouquet, cake and champagne provided, there's not much left on your task list. And now we're offering even more services to make the planning process as smooth as possible. Need a photographer, musician or minister? We can coordinate that!
With all of your wedding needs in one place, there's no need to juggle multiple vendors. Sailing away for your wedding is a romantic, unique experience that will be as special as your love.