It's time to put away your coats and thermals and bust out your beach gear. Spring has officially sprung on the Gulf Coast, and that means it's time to gather up your friends and family and get out on the water.
We offer a wide range of sailing experiences to suit every taste. Whether you're always up for adventure or always down for a little rest and relaxation, we've got a cruise for you.
For the Armchair Marine Biologist
Our Snorkel & Sail Tour is perfect for the budding marine biologist and nature enthusiast alike. Sail to the Alabama Point jetty, and upon arrival participate in a guided snorkeling adventure with a PADI-certified dive master. Catch a glimpse of the gulf's abundance of native marine wildlife and make memories to last a lifetime. This two-hour trip includes snorkeling gear, snacks, soft drinks and bottled water – and, of course, life jackets!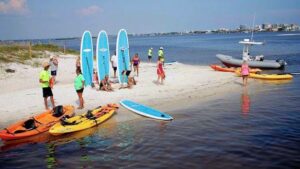 For the Active Adventurer
The Kayak Adventure Snorkel Sail is designed for thrill-seekers who prefer an action-packed experience. After a sail in the Gulf of Mexico, enjoy a range of high-energy activities such as kayaking, paddleboarding and snorkeling at Robinson Island. This three-hour excursion includes refreshments, and the kayaks, paddleboards and snorkeling equipment are provided at no additional cost.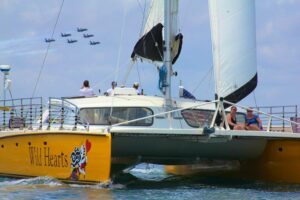 For the Adrenaline Junkie
Our Dolphins & Blue Angels Sail will get your blood pumping! Sail the Gulf of Mexico with your family and friends, spotting bottlenose dolphins in their natural habitat. As this cruise approaches Pensacola, we'll drop anchor in front of a haunted lighthouse and have some time to prepare for the Blue Angels show. You'll witness the Blue Angels' heart-stopping escapades from aboard Wild Hearts. Next, sail to a historic Civil War fort in a protected lagoon. While you snorkel, kayak, paddleboard and explore Fort McRae, our crew will prepare a delicious lunch. This six-hour cruise includes refreshments as well as breakfast and lunch. Life jackets and kayaks, paddleboards and snorkeling equipment are included!
For the Love Birds
Love is always in the air along the coast, and you're sure to feel it on our Sunset Cruise. Bid farewell to the day and watch the sun go down while enjoying nature aboard Wild Hearts with your honey. On this 90-minute to two-hour trip, we provide refreshments and light hors d'oeuvres, but feel free to bring your own bottle of champagne or wine to set the mood.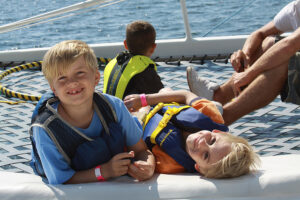 For the Family
For the fun-loving family, we offer one of our most popular sails, the Family Adventure Sail. A little catch-and-release fishing, a little snorkeling and swimming, and a whole lot of fun awaits your family on this excursion. Plus, we'll make it easy on you by capturing the best moments of the day and posting photos and videos to our social media sites promptly. On this two-hour cruise, life jackets are included, and soft drinks and snacks are available for purchase.
With all of these options, April is going to be a month of non-stop fun at Sail Wild Hearts! When you've decided which cruises are a good fit for you and your crew, give us a call at 251-981-6700 to reserve your spot.