As temperatures rise and the days get longer, we're getting more and more excited looking forward to summer! There's nothing like this time of year in Gulf Shores: families and friends descend upon the beach ready to catch some rays, sink their toes in the sand, and enjoy some long-awaited rest and relaxation.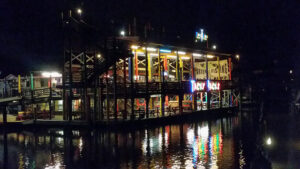 There's so much to experience in Gulf Shores! Here's our guide to making the most of your Gulf Shores vacation.
Good Eats and Good Times – If there's one thing we can say for certain about the Gulf Coast, it's that we know how to cook up magic in the kitchen. There's no shortage of good eats in Gulf Shores, from high-end dining at Fisher's at Orange Beach Marina to family-friendly grub at LuLu's Gulf Shores. If eating your way around Gulf Shores isn't on the agenda, you're doing it wrong! Don't skip out on washing down some fried oysters with a bushwacker at Flora-Bama, perusing the giant menu at The Hangout, and karaoke or open mic night at Tacky Jacks. Plus, what goes together better than good food and live music?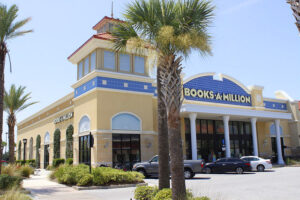 Shop Until You Drop – A little retail therapy goes a long way, and Gulf Shores has shopping to cure whatever ails you. Tanger Outlets in nearby Foley, Alabama, is literally a one-stop shop, with everything from big-name retailers to locally owned mom-and-pop shops. Take a trip to The Wharf in Orange Beach for a curated shopping experience or to Pelican Place at Craft Farms for cute boutiques and big box stores. When you're done shopping, grab a drink or a bite to eat, catch a film, or enjoy some other quality entertainment at these epicenters of fun!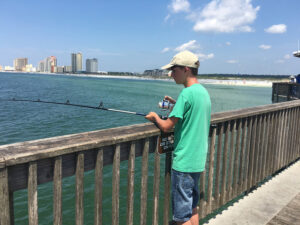 Explore the Great Outdoors – It almost goes without saying that the main draw of a Gulf Shores trip is the beach! Locals and tourists enjoy the white-sand shores and the crystal blue water, perfect for popping up an umbrella and watching your worries wash away. Another way to experience the great outdoors is fishing. Book a charter fishing trip, or fish off the Gulf State Park Pier. Onshore or offshore, the fish are biting in Gulf Shores. More of a landlubber? Get out on the green! Gulf Shores has great golfing; the area boasts eight famous signature golf courses designed by notables such as Arnold Palmer, Jerry Pate and Earl Stone. There are innumerable ways to get outside in Gulf Shores.
Of course, a Gulf Shores summer vacation isn't complete without a Sail Wild Hearts adventure! Interested in booking one of our cruises? Call us at 251-981-6700 or book online.