Anyone who knows a veteran or someone actively involved in the military knows the sacrifice and courage it takes to serve our country.
In fact, our owner's late grandfather, John C. Waldron, was a United States Navy aviator who led a squadron of torpedo bombers in World War II. He and most of his squadron didn't survive the Battle of Midway. Our owner's late grandfather is one of many veterans in the family, and that's why at Sail Wild Hearts, we do our best to support veterans and their families in any way we can.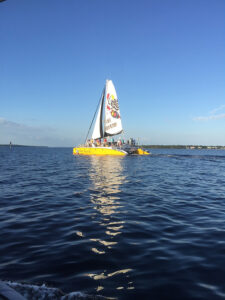 Since 2014, Sail Wild Hearts has participated in "Wounded Week," a tradition that grew from one condominium owner's gesture of thanks to a wounded veteran. Wounded Week has turned into an annual event that provides a week-long free vacation for wounded American military veterans and their families.
While the veterans are in town, we take pleasure in offering two private charters for the veterans and their families, and our sister company, Perdido Beach Service, provides complimentary lounge chairs, umbrellas and kayaks to Wounded Warriors.
Additionally, we're happy to support Operation ReConnect, a non-profit organization founded by combat veterans that provides complimentary Gulf Coast accommodations to service members and their families in an effort to reduce the disconnect following multiple months of deployment. We sponsor all families on a sail of their choice during their ReConnect, and Perdido Beach Service offers complimentary chairs for those staying at a property we service.
Along with employing several veterans at Sail Wild Hearts, we've always offered a 10 percent discount on our cruises for all veterans with a military ID or VA card.
We'll never be able to fully repay our service men and women for their sacrifice, but doing our part to say "thanks" is something we're passionate about and plan to continue as long as we're in business.