At Sail Wild Hearts, we offer a variety of cruising experiences tailored to you. Each of our cruises presents a unique experience to get out on the water your way, whether you're an adventure seeker or the romantic type.
With so many options for fun in the sun, choosing can feel a little overwhelming. If you've sifted through our Facebook and Yelp reviews and you're still having a tough time choosing, why not hear what our crew has to say?
We asked the folks behind the Sail Wild Hearts magic about their favorite cruises, and here's what they had to say.
Captain Zach Smith
My favorite cruise is the Dolphins and Angels.  It is hands down the coolest thing I am fortunate enough to take part in. From here to the Virgin Islands there is nothing like it packed in six to seven hours. From the moment the passengers come aboard to the time
we return, we transform their vacation into something bigger than a trip. It becomes an experience. On this cruise, we get to really connect and know the guests. We have a set plan, yet it's never the same. We have breakfast and snacks on the way while getting to see either the Gulf of Mexico or Intracoastal Waterway, depending on weather conditions. We almost always see dolphins on the way as an added bonus. Once we get to our anchor point just south of the "haunted" lighthouse,  we are dazzled with the amazing brilliance and talent of the military's finest at flight. After dozens of these trips, the flyby and maneuvers are still awesome and surprising even when I am expecting it to come. After the show, stopping at Fort McRee  is a great break and chance to explore, kayak, paddle-board, snorkel and swim at a remote location that only those in the know could find. Lunch is prepared and served fresh, and after an hour or so we load up and return home. Fresh pineapple or watermelon is then prepared and offered to all, along with great music keeping everyone relaxed and pumped about what happened while taking in what was just experienced. This is a trip I look forward to and can't express more how it should be an essential thing to do on any vacation in our unique corner of the world."
Mitch Bailey
"My favorite trip is the Blue Angels.  I love going to Pensacola and watching the Angels practice their flight routine. It's also great to see the customers react to the Blues flying over the boat. They really enjoy how close we are able to get. The trip also gives us the chance to sail, which is always a plus.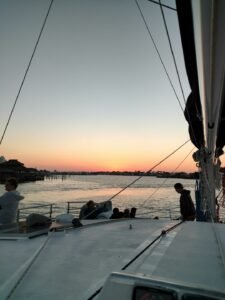 Another trip I enjoy is the Sunset Cruise.  Being on the water is always a great experience, but it's even better when scenic views of the sunset are added. It also gives the crew a chance to get more involved with the customers because once we're out on the water we can interact with them. Meeting people and finding out about where they're from and what they do is always a great experience."
Hannah Davidson
"My favorite trip would definitely have to be the Sunset Cruise.   There are always plenty of chocolate chip cookies and good music. You can relax and enjoy a unique Gulf Coast sunset. The possibility of seeing some wildlife like dolphins and sea turtles always makes the trip exciting. You will not regret joining us for a lovely evening on the water."
When it comes to booking your cruise, it's best to trust the experts! Visit us online to see all our offerings and to book your Sail Wild Hearts cruise.