Sail Wild Hearts crewmate Mitch Bailey grew up in Fort Payne, Alabama, then relocated to Gulf Shores with his family when he was 17.
How long have you been a crewmate?
Two separate summers.
How did you come to work aboard Wild Hearts?
Captain Zach is a family friend who offered me a job.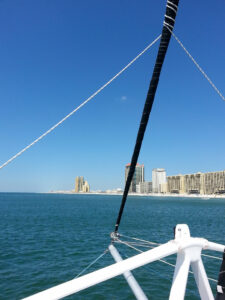 What do you love most about your job?
The outdoors. Last summer I interned at news stations in Birmingham and Tuscaloosa. The majority of my day was spent indoors in front of a computer screen. Working for Wild Hearts gives me the opportunity to make good money and enjoy my summer.
What tip would you give someone who's never sailed aboard Wild Hearts?
Soak in every moment on the boat, because it's not every day you get to go sailing. Sit back, relax, and enjoy the sail.