The weather may be cooling off, but our Sail Wild Hearts sails are just heating up! When temperatures drop and sunbathing season is over, there's no better way to experience the magic of the Gulf than with one of our cruises. Follow these tips to prepare for your winter sailing experience with Sail Wild Hearts. We can't wait to see you on board!
Keep it cozy – Make sure to check the weather and wind speeds the day of your cruise, and pack appropriate clothing. In the South, winter layering is key. Think pants, long sleeves, windbreakers and even gloves. In the colder months, it's not a bad idea to bring along a cozy blanket or two to snuggle up under. Remember, the wind can make it feel colder than the number on the thermometer!
Snack like a champion – We offer some soft drinks and snacks on some of our cruises, but it wouldn't hurt to bring along a hot thermos with coffee, hot chocolate or even mulled wine (for those 21 and up) to keep your hands and your insides warm. You can't go wrong with seasonal snacks like gingersnaps and oatmeal cookies, but anything easy to eat and portable works just fine.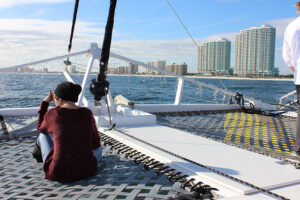 Protect yourself – Don't let the cooler temperatures fool you. You still need sun protection out on the water! Bring sunshades and sunscreen along for the ride. And depending on the wind, it might not hurt to pack some lip balm to protect sensitive skin from the wind. It's better to be safe than sorry (and sunburnt).
Say cheese – No matter the time of year, you'll want to bring a camera along on your Sail Wild Hearts cruise. From capturing nature in all its beauty to immortalizing special family moments, you'll be glad you have something to help you remember the trip by.
Follow this simple advice and you'll be all set for your winter Sail Wild Hearts adventure. The only thing left to decide is which cruise to choose!