Along the Gulf Coast, everything is a cause for celebration, and there's nothing we love celebrating more than food! We'll let you in on a little-known secret: The best way to celebrate Thanksgiving is at the beach. Skip the snow and enjoy the peace, quiet and perfect weather of Gulf Shores and Orange Beach this time of year. If you haven't yet considered bringing your Thanksgiving traditions to the Gulf Coast, maybe our tips and tricks will convince you.
Entice your family and friends with a beach trip for the holiday! Because it's the off-season, rates for booking hotels and condos will be at their lowest, making it surprisingly affordable to rent a space big enough for your brood to come together and celebrate. You'll find a great variety of Gulf Shores and Orange Beach condos, hotels and beach houses within your budget.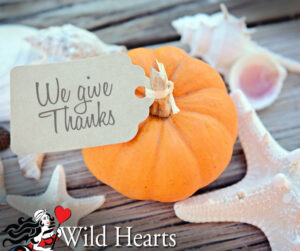 If cooking your signature Thanksgiving meal is a tradition you intend to uphold, the majority of beach rentals have full kitchens where you can bake your turkey and fix all your favorite sides. But if you'd rather let someone else handle the Thanksgiving meal (and the cleanup), some of the restaurants around town will be offering up Thanksgiving menus, family-style potluck dinners and more.
After stuffing yourself silly, get ready to shop 'til you drop. Take advantage of Black Friday deals at our local markets, boutiques and malls. Or challenge yourself to a fun half marathon the Saturday after Thanksgiving. Feeling more sedentary? Pack up the leftovers and head out to the beach!
Of course, you can always give us a call and book a #SailWildHearts cruise that's sure to wow your Thanksgiving guests.
Consider this your warning: Once you spend Thanksgiving in Gulf Shores and Orange Beach, you won't want to celebrate the holidays any other way!