They say time flies, and looking back on the past year, that certainly rings true. As 2017 comes to a close, our crew is looking back at some of our favorite Sail Wild Hearts moments.
"My favorite sail this season was a Family Adventure sail we had early on. I had some family and my kids on board along with a good number of guests with children. While out, we saw dolphins, several rays and a shark! We had a water gun battle with a local pirate ship and a few snacks afterward. We also let the kids take turns reeling in a mackerel before setting them free. It was enjoyable for me because I got to see my kids having fun and enjoying what I do every day." –Captain Zach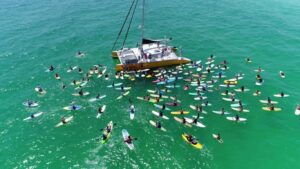 "My favorite trip of the year would definitely have to be from the Fourth of July. During this trip, we set sail at night and anchored out in front of one of Orange Beach's beautiful resorts for a spectacular fireworks show. There is nothing like watching a fireworks show from Wild Hearts! You can lounge on the nets and watch the show in the sky or be mesmerized by the reflections on the water! This exclusive, once-a-year trip is certainly a treat." -Hannah
"My favorite sail this year was April 21, when Wild Hearts and crew joined family and friends of the late John Russell in Pensacola Beach. The celebration of John's life was the most beautiful ceremony and experience. The crew and I are so thankful to have been a part. The amount of love and appreciation exhibited will forever be in our Wild Hearts." -Captain Gina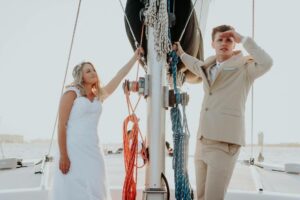 "This year was my first season of sailing with Wild Hearts. Best job I've ever had! We offer a variety of sails, but my absolute favorite experience onboard the catamaran would have to be my very own wedding. Wild Hearts gave my wife and I the trip of a lifetime. Being that we only had a week to plan it, it turned out absolutely perfect. My fellow crewmates, the food and the atmosphere were phenomenal. From dancing below in the salon and shoving cake in each other's faces to hula hooping on the bow, marrying the love of my life will be unforgettable." -Josh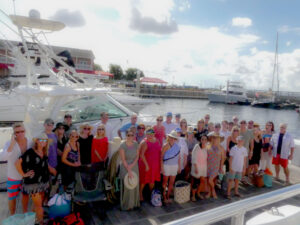 "My favorite trip was the all-day fundraiser Dolphins & Blue Angels Sail for Children's Home Society of Pensacola. It was amazing to spend my entire day on the boat! Being there at 3:00 in the morning heading toward Pensacola and getting to see the sun come up was honestly my favorite memory from this summer. Watching the passengers enjoy themselves during the air show made me feel appreciated because of how they reacted to the Blues. The Blue Angels always give us a great show, but this trip felt different because of how close we were when they flew over!" -Mitch
We're looking forward to a new year filled with even more Sail Wild Hearts memories. We hope you'll join us to make some memories of your own!