Once the champagne bubbles have gone flat and the party is over, it's time to pause, refocus and create a plan to reach your goals. We reflect on the past year and dream of all we want to accomplish in the year ahead. We're filled with renewed energy and excitement for what's to come.
What are your goals for 2018?
We hope your plans include spending more time with family, prioritizing relaxation, trying something new or booking a killer vacation. It's important to do something to take you away from the stresses of everyday life.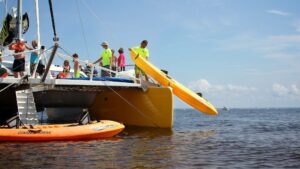 To cover all the above goals, consider a Sail Wild Hearts cruise. Maybe you'd benefit from a relaxing sunset cruise. Or perhaps an adventure sail with kayaking and snorkeling is more your speed.
Planning a wedding, corporate retreat or team-building event? We can handle that, too.
If you've been meaning to book a cruise with Sail Wild Hearts and you just haven't gotten around to it, turn a new leaf and make 2018 your year! We can't wait to show you around the beautiful waters of the Gulf of Mexico from aboard our 53-foot catamaran.
We welcome you (and the new year) with open arms!