Nothing against winter, but we're looking forward to longer, sunnier days out on the water. We spend the colder months working hard to dream up a new experience for our Sail Wild Hearts fanatics. We can hardly wait to share the news!
Starting immediately, we're excited to offer unique parasailing adventures on our top-of-the-line, 35-foot Coastguard-certified parasailing boat, Sky Surfer! From hundreds of feet in the sky, parasailers will be able to spot pods of bottle-nose dolphins, sea turtles and all of Orange Beach and beyond. Our Ocean Pro, USCG-inspected parasail vessel, docked directly across from the Perdido Beach Resort, seats 15 people comfortably so you and your crew can safely enjoy your sail.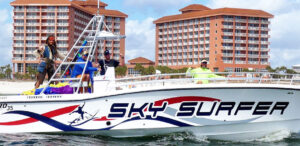 Our experienced crew has spent years not only learning the ins and outs of sailing but becoming the absolute best at customer service. Captain G.R. Price Williams Sr., a former combat medic in the U.S. Army, has over 14 years of parasailing experience, and it shows. He's able to fly you just low enough to dip your legs into the water and then swiftly return you back into the sky, with your permission, of course. Plus, he's got great taste in music.
On top of a second-to-none parasailing experience, we're offering reasonably priced and easy to access photo and video packages so you can capture the magic of your parasailing adventure and relive it over and over.
We can't wait for you to experience a parasail aboard Sky Surfer yourself! Seeing is believing, and we're pretty sure you're going to like what you see.
To book your Sky Surfer adventure, head here and click the Book Now button, or give us a call at 251-923-4808.