Summer is fast approaching, and we're already looking forward to good times in Gulf Shores and Orange Beach all season long. Whether your idea of a perfect summer vacation includes action and adventure or nothing but rest and relaxation, there's something for everyone at the beach! No matter your vacation style, you'll want to check the following five things off your bucket list this summer.
Hit the beach.
The white-sand beaches and crystal-clear waters are calling your name. Pack your swimsuit, a beach umbrella and plenty of snacks for a fun-filled day of salt spray and waves. Don't forget the sunscreen!
Grab a bite to eat.
There are so many tasty ways to experience Gulf Shores. Try fresh seafood straight from the gulf, or dine in style at a number of restaurants on the water. You've got to eat either way, right?
Enjoy the nightlife.
While it's tempting to stay inside the condo and catch up on your sleep, you won't want to miss out on craft cocktails, live music, new friends and nighttime fun in Gulf Shores. Check out this local calendar of events to see what's popping during your stay!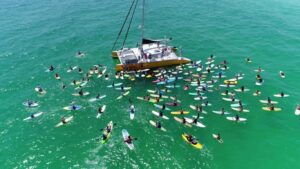 Book a cruise.
See a whole new side of the beach on board a Sail Wild Hearts cruise. From romantic sunset sails to action-packed adventure trips, choose a cruise for an unforgettable aquatic adventure. Just be sure to bring your camera!
Make memories.
Whipping up a home-cooked meal in your condo, building sandcastles, snapping sunset pictures on a Sail Wild Hearts cruise or seeing your favorite band live . . . It's all about making memories to last a lifetime.
Fine dining and craft cocktails? Offshore fishing and bushwackers? Plenty of sleep and poolside relaxation? How will you spend your summer vacation in Gulf Shores this year?