Congrats, you're engaged! Now what? Enter: The stress of choosing a venue, booking vendors, sending out invites and figuring out what to feed your guests. If a big wedding has always been your plan, by all means, carry on. But if you're looking for an intimate, stress-free ceremony with your closest friends and family, we've got a solution for you.
Did you know you can tie the knot aboard a Sail Wild Hearts cruise? It's true, and we can't think of a more romantic way to say "I do." We offer two different wedding options, the "Just Us" package and the "Champagne Toast" package, at four different price points to suit any couple's budget. Daytime sails and sunset sails are available and include a bridal bouquet, boutonniere for the groom, a cake, a bottle of champagne and, of course, the two-hour sail with your wedding party.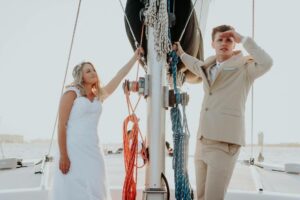 Need additional help? For a little extra, we can arrange catering, photography, music and even the minister.
At Sail Wild Hearts, we think wedding planning shouldn't have to be stressful. The only thing you should be thinking about on your wedding day is the love you share with your special someone. Keep it simple (and affordable) with a Sail Wild Hearts wedding. Just remember the rings.
Ready to plan your Sail Wild Hearts dream wedding? Get in touch!