December…the time many of us begin yearning in earnest for warmer days and the sunny skies of spring. If that's you, too, read on…spring will be here sooner than you can say Happy New Year.
1.) The weather, of course is a top reason we wish for spring. While winters here are mild, there's no debating that springtime is even better! Warmer water, skies are blue and those almost-summertime temps are all reasons we are wishing for spring.
2.) Everything gets greener in the spring. Our sea oats don't turn green, but they do change colors and it's a trusted sign spring is near. Everything else though, starts greening up—grass, trees, and more, and the azaleas bloom, too, providing a huge splash of color all around us.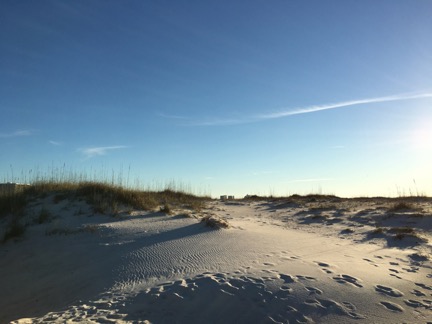 3.) We put our boat back in the water during spring, if we've been doing updates, which we probably have. Seeing our catamaran go back into the water cheers us all up because we know it's almost time to start taking all of you out on the water.
4.) Family time! We're well known for being a family-friendly destination perfect for spring break trips. Rates are lower than summertime, everyone is open and ready to welcome visitors, and did we mention the great weather? Come on down during spring and find out what it's all about.
5.) Spring is a great time to take in a sunrise. Whether from your balcony with a cup of hot coffee, on the beach walking into it or just sitting somewhere quietly to take it all in, spring is magnificent for sunrises. We hope you'll join us for one—or five—soon!