With various dolphin cruises in the Gulf Shores and Orange Beach areas one may wonder what makes Sail Wild Hearts special? Our 53-foot open ocean catamaran has it all from a spacious deck, an open cabin, two restrooms, and an onboard bar! Our amazing captain and crew are here to ensure our guests have the best experience in the Gulf Coast during their adventure! Sail Wild Hearts offers 5 different cruise and sail options so you can make sure your excursion is tailored specifically to your enjoyment!
Wild Hearts has recently gotten a refit and is ready to take you out on the open sea! Our Captain, Zach Smith AKA Zach "Sparrow" is here to make sure you have an adventure you will remember forever. Captain Zach has a passion for sailing and he wants to share his passion with each guest making it his mission to help them understand what it is that makes a trip with Sail Wild Hearts so special!
Your comfort is our priority at Sail Wild Hearts! Guests may lounge and spread out on the spacious deck and enjoy the salty sea air while taking in the views of the turquoise waters. The open cabin is there when you need to escape the heat and simply relax! We provide our guests with complimentary refreshments and snacks during their excursions to add a special touch! From the open deck, to the covered cabin, we want to make sure you are comfortable.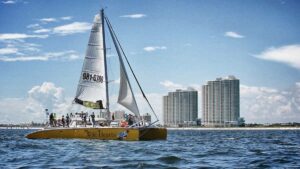 At Sail Wild Hearts, we do not simply offer Dolphin Cruises, we offer five different Gulf Coast Adventures! We offer a Sunset Cruise, a Dolphin and Blue Angels Sail, a Kayak Adventure Snorkel Sail, a Family Adventure Sail, and a Snorkel and Sail Tour. Choose the adventure that you will enjoy the most and get ready to set sail! At Sail Wild Hearts we truly offer unique Gulf Coast Adventures that you and your group are sure to enjoy.
With our stellar crew, our spacious catamaran, and our unique cruise and sailing options, you are sure to have an unforgettable experience at Sail Wild Hearts. With your comfort in mind, we are here to make sure you have the best cruise and sailing experience yet! Book your Sail Wild Hearts Adventure and see for yourself what truly makes Sail Wild Hearts so special!