Whether you are a local or visiting the beach from out of town, seeing the Blue Angels (officially known as the U.S. Navy Flight Demonstration Squadron) fly is an amazing, hard to top  experience. But there is one way to make seeing them even better; watch them fly aboard Wild Hearts Catamaran. Check out five reasons you'll love our Dolphins and Angels Cruise.
You get more time aboard the boat. This is a six-hour trip giving you more of an opportunity to spot some of our local wildlife and marine life. As we set sail to Pensacola be prepared to relax and see some of the marine wildlife native to our coast. From dolphins, fish, and turtles to many species of sea birds, this trip is sure to delight.
You get to witness the drills from the best vantage point possible. We are talking about the world's most elite fighter pilots practicing their adrenaline-pumping drills – and you get to witness them from our spacious 53-foot, open-ocean catamaran. With the beautiful Gulf of Mexico as your background, what more could you want?
You get to do more than just watch the Blue Angels. After the Blue Angels experience, we set sail to a historic Civil War Fort in a protected lagoon. There you will have the opportunity to snorkel, kayak, paddleboard, and explore Fort McRae. There is no additional charge for kayaks, paddleboards, and snorkeling equipment. And as always, life jackets are included.
Lunch is provided. You have to eat, right? While anchored, the crew will prepare a delicious complimentary light lunch that will include bottled water or soft drinks for you to enjoy.
There are many opportunities to book this cruise. The Blue Angels practice most Tuesdays and Wednesdays from April through early November, so you have many chances to book this cruise and witness their breathtaking aerial displays, but don't wait too long as many dates are filling up.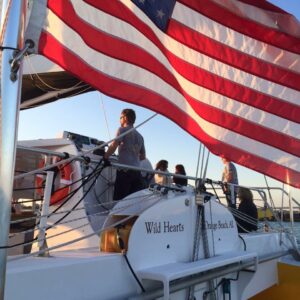 Please note: Cruises are subject to cancellation due to weather or a change in the Naval operational schedule.