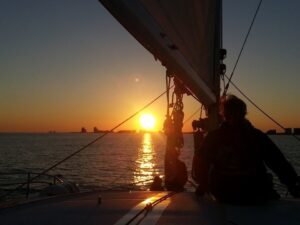 It's called spring (or summer) break for a reason: You are supposed to take a break! When your plans include a trip to our beautiful beaches this year, you MUST add our sunset cruise to your itinerary.
This 1½- to 2-hour trip is the perfect way to wrap up a day spent at the beach. Imagine setting sail a little before dusk, surrounded by your family or friends, ready for a photo-worthy sunset and views of our beautiful natural scenery. We provide water, soft drinks and hors d'oeuvres, but passengers 21 and older are welcome to bring their own adult beverages.
Being on the water is always a great experience, but it's even better when scenic views of the sunset are added. And because this is one of our more laidback and intimate cruises, you can expect to interact more with our amazing crew.
Still not convinced a sunset cruise is for you? Head to our Facebook page to check out photos of the amazing sunsets we have been privileged to enjoy. We promise this cruise will provide a relaxing evening you won't regret!