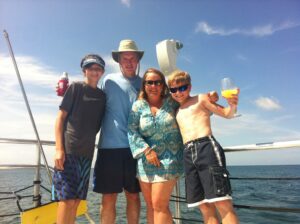 It can be challenging to find an activity the whole family will enjoy, but a sail on Wild Hearts may be just the ticket. Whether you're a local or visitor, experienced or first-timer, check out the below reasons a sail on Wild Hearts is perfect for the whole family.
Sail Wild Hearts offers five different cruises, 

so there really is an option for everyone. One of our most popular sails is our sunset cruise, a perfect way to wrap up a fun day in the sun. Another fan favorite is our Family Adventure Sail. On this enjoyable nature cruise, you can

experience catch-and-release fishing, snorkeling and swimming (at the captain's discretion). When looking for something with a little more excitement, check out our Dolphins & Blue Angels Sail, Kayak Adventure Snorkel Sail, or Snorkel and Sail Tour.

Being on a boat guarantees time outside in the fresh air, surrounded by the sea. Nothing offers more relief from stress and anxiety than socializing with the ones you love while cruising on the water soaking up some vitamin D. 

Sailing with Wild Hearts means you will be treated like a VIP!

Our 53-foot, open-ocean

catamaran

offers it all, from a spacious deck and open cabin to two restrooms and an onboard bar. And our expert, friendly crew makes sure you get the most from each cruise, from private sails to at-capacity tours.

You will make memories with your family that will last beyond your trip, and nothing can beat that.
Still not sold on a sail with Wild Hearts? Visit our Facebook page to check out our selection of photos that are sure to seal the deal!