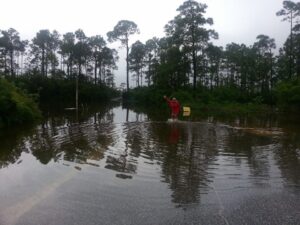 Sail Wild Hearts isn't only about sailing fun! If you're looking for an eco or nature adventure, we have that covered, too. 
By special arrangement, Wild Hearts is uniquely equipped to provide dolphin, nature, and eco tours. Our spacious deck provides an excellent platform for viewing the local habitat. The area waters abound with numerous dolphins that can be observed in their natural surroundings. Don't worry, though. We never feed or chase the dolphins, and our propellers have protective cages around them, ensuring no creatures will be harmed.   
Want to take water-based learning one step further? We can arrange to have a local naturalist on board to inform, inspire and educate you regarding the local plant and animal life. 
For those who enjoy dipping your toes in the water, our snorkel adventure may be the ticket. Enjoy the warm Gulf water from a closer perspective while spotting an abundance of local marine life. 
We offer some wonderful ways to experience our coastal life,  so come learn a little and have a whole lotta fun on our 53-foot catamaran, Wild Hearts!