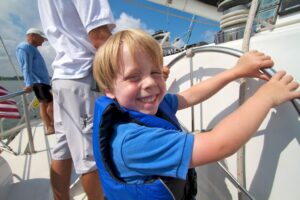 We can picture it now: a sunny day, warm gulf breeze, and family and friends aboard Wild Hearts.   
We are looking forward to getting back in the water this spring, so we have compiled a list of some things you can expect when you sail with us. 
Sanitation – We are taking precautions to keep our visitors safe during this time. All equipment will be sanitized daily after use, and cruise capacities have been limited by over 50% to provide safe social distancing practices. If you prefer, we do have new, packaged masks and snorkels available for purchase. 
Adventure – With a variety of available excursions, each sail is different – even if you've sailed with us before – so be prepared for a new adventure every sail! 
Family Fun – Our sails are open to all ages, providing an adventure the whole family will enjoy and remember. From dolphin spotting to catch–and–release fishing, and even swimming and snorkeling near small islands, you'll find fun activities appropriate for all ages.  
Safety – Your safety is a top priority. Children ages 12 and under will be required to wear U.S. Coast Guard-certified life jackets supplied by Wild Hearts. 
Dedicated Crew – Our experienced crew will be by your side every step of the way to make your voyage as relaxing as possible. From entering and exiting the boat to handling sea sickness, our crew is there to assist you. 
 Come celebrate spring with us on Wild Hearts!