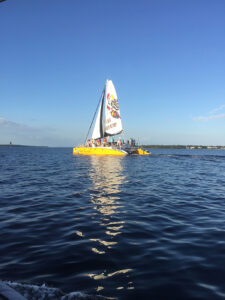 Your eyes do not deceive you – the calendar now reads "March." We don't know about you, but we are welcoming the spring season with arms wide open!   
Take a break now to read about each of our Sail Wild Hearts cruises so you can decide which to book first. We offer plenty of options, so we know there's something that will satisfy the whole family. Read on for more information, then give us a call at 251-981-6700 when you're ready to make it official!  
Sunset Cruise
After your day of fun in the sun, get lost in the magic of sunset as Wild Hearts sails into the Gulf of Mexico. 
Dolphins & Blue Angels Sail
Elite fighter pilots practice in our own backyard! You and your family will have exciting stories to tell after watching the daring maneuvers from a unique vantage point aboard Wild Hearts. This all-day adventure (breakfast and lunch included) will have you looking up for the U.S. Navy's Blue Angels while keeping an eye on the water for dolphins at play. 
Kayak Adventure Snorkel Sail
It's the best of both worlds. After skimming across the deep blue sea, Wild Hearts anchors at Robinson Island for fun with kayaks, paddleboards and snorkels. 
Family Adventure Sail
Our nature cruise is a fun and educational way to relax. In addition to enjoying fabulous scenery, try your hand at catch–and–release fishing, or slip below the water's surface to swim and snorkel. 
Snorkel & Sail Tour
The Alabama Point jetty holds all kinds of adventure. This 2-hour Wild Hearts sail includes close-up views of marine wildlife via a guided snorkeling adventure for the whole family. 
Don't forget we also offer private charters and can even help plan your dream wedding. With Wild Hearts, the aquatic adventures are endless!