Sail Wild Hearts is gearing up to start casting off and we want you to get to know our crew!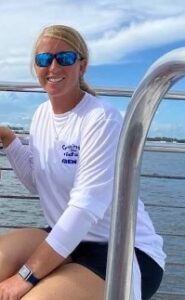 Say hello to Brittany Vandiver!
Brittany is returning to us this year as first mate. Born and raised right here in Gulf Shores, she naturally grew up with a love of the water and the outdoors. Her work on boats began when she was just a girl, so we're confident she has the skills and experience to keep our boats in ship-shape order. We are thrilled to have her back on our crew for a second year.
When she isn't wrestling with the sails and waves, Brittany stays busy raising her two young children.
Meet Brianna Ennis!
Brianna isn't completely new to the Sail Wild Hearts family either, but this is her first time working as a deckhand on one of our boats.
Last summer she served as a deckhand on a dolphin cruise boat and says her wildest experience as a crew member was seeing a mother dolphin birth a calf in the wake behind her boat! With that remarkable experience in mind, Brianna is excited about joining the crew here at Sail Wild Hearts.  As she puts it, "Everyone has such a love for what they do, it makes the job amazing! You can't beat being on the water all day!"
Brianna has lived most of her life right here in Orange Beach. Now her time is divided between school semesters at University of Alabama at Birmingham and summers back home.
Brittany and Brianna are excited to get started this season and so are we. Call 251-981-6700 to book any of our exciting sailing excursions.
Looking for even more adrenaline-pumping fun? We are currently docked at SanRoc Cay for Sky Surfer Parasailing! Experience the Gulf of Mexico from the sky by calling 251-923-4808 and reserving your trip today.