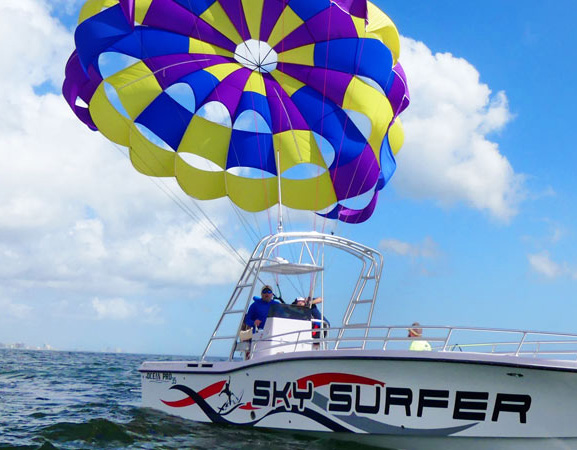 It's no secret that we have all been living out of our comfort zones for the past year, so why not step it up a notch? If you're heading to Gulf Shores or Orange Beach soon, add our parasailing adventure to your bucket list!  
What can you expect with this adrenaline–pumping adventure? 
You'll begin your adventure being greeted by our fully trained and friendly crew aboard our comfortable, cushioned, 15–passenger, USCG-Inspected parasailing vessel. 
We will safely secure everyone in a harness. Once we hit the gulf, flyers will be seated on our spacious, padded, back deck and secured to the chute.  
When everyone is ready, you will be gently lifted off the deck. In a matter of seconds, you will be treated to a view like no other as you cruise hundreds of feet over the beautiful Alabama waters of the Gulf of Mexico. Very often, pods of bottle-nosed dolphins and even sea turtles can be seen during your adventure. 
With your permission, our captain may fly you just low enough to dip your legs into the water and then swiftly return you back into the sky before returning you gently to the boat.  
Don't wait any longer! Make your reservations today for an incredible experience that will be the highlight of your vacation.