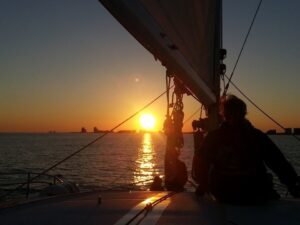 Summer is arguably one of the best times to visit the Gulf Coast, but it's also the hottest and most humid time of the year. That combination can be tough, even for us locals who are used to it.   
With that in mind, we have compiled a short list of tips to help you beat the summer heat and make sure your vacation is enjoyable.   
HYDRATION: This is probably one of, if not the most, important tips: HYDRATE! And take this to the next level if you plan to enjoy an alcoholic beverage or two. Both alcohol and the sun can cause dehydration, so it's vital to alternate with water or a sports drink while consuming alcohol. 
SUNSCREEN: Don't skip this, even if you think you have a "good base tan." Apply liberally and apply often.  
SUNGLASSES: Your eyes can become sun damaged, too. Fortunately, almost all sunglasses provide some sort of UV protection. Think of your sunglasses as sunscreen for your eyes and wear them consistently.  
HIT THE SHADE: Take breaks from the sun during the day. Head up to the condo or sit under an umbrella periodically.   
SUNSET CRUISE: Last, but certainly not least, enjoy our sunset cruise. Once the sun begins to set and temperatures drop, spending time outside takes on a new appeal.   
A little bit of planning can go a long way when it comes to spending time at the beach. Heed our tips to get the most from each day.