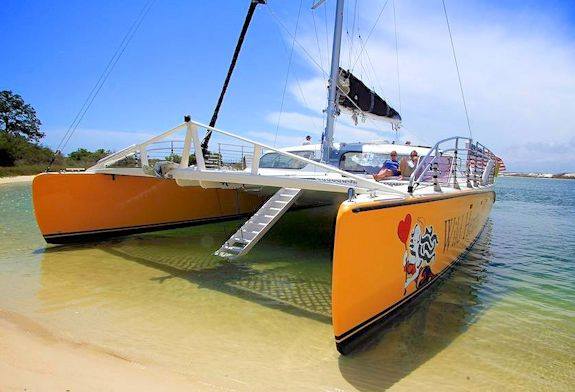 The new year is right around the corner, and with a new year comes new adventures! Be sure one of those adventures is a trip to Gulf Shores and Orange Beach. And since you'll be in town, a sail on Wild Hearts is a must! There are so many reasons why sailing with us is a must try, but here's three for now.
It's the perfect family adventure. Our Family Adventure Sail is guaranteed to be a hit for every member of your family! On this 2-hour trip, get a feel for catch-and-release fishing, then swim and snorkel in the beautiful blue gulf waters! Our knowledgeable captain always points out the unique marine life, adding education and an experience that can only come from being on the water.
New places. Explore places you can't get to by land, including Robinson Island near Alabama Point. This small, white-sand island offers a fun spot to hop aboard a Wild Hearts paddleboard and explore. Or take advantage of sandcastle-building time on these unspoiled beaches.
We offer a one-of-a-kind sailing experience. Our 53-foot, open-ocean catamaran offers it all, from our large deck and open cabin to two restrooms and an onboard bar. And our friendly crew makes sure you get the most from each cruise, from private sails, weddings and business ventures to at-capacity tours.
We have the perfect cruise for every occasion, so start planning your 2022 adventure with us today!